At Stonegate Surgery Center, we are an outpatient surgery center that focuses on orthopedics, gynecology, ENT, plastics, and podiatry procedures. We thrive to provide an experience unlike any other.  Stonegate partnered surgeons are peer-selected and ranked amongst the most renowned in Austin. Our facility is equipped with the latest patient-care technology that extends far beyond the operating room. Providing patients with the ability to securely connect with their medical care team as easily as they might send a text to a family member or Skype with a friend, Stonegate will position itself as the best place to have one's surgery as well as receive concierge-level care.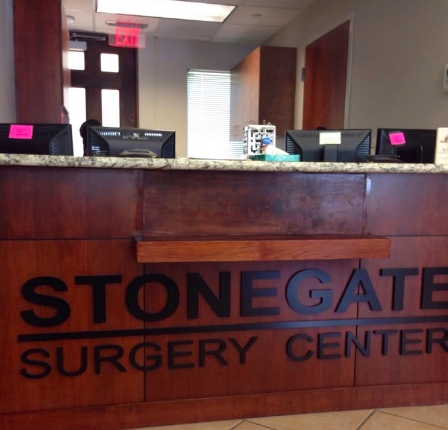 ---
Mission
To care for patients, serve physicians, and improve healthcare in America.

Our Values

Clinical Quality
We are committed to outstanding patient care and clinical outcomes.

 

Integrity
We do what is right, no matter how difficult, without exception.  We say what we mean, and we do what we say.

 

Service Excellence
We seek to exceed the expectations of patients, physicians and each other in everything we do.

 

Teamwork
We work together, helping and supporting one another to make our Centers, Departments and all of SCA successful.

 

Accountability
We take complete, personal responsibility for our actions and commitments.

 

Continuous Improvement
We seek to relentlessly improve our performance in every area – clinical, operational, and financial – constantly   pushing ourselves to new heights.